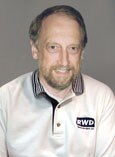 Larry Bielawski
Larry Bielawski, D.Sc. is the Chief eLearning Consultant for
RWD Technologies® and has over twenty years of diverse work experience in information technology development, knowledge management, and eLearning. He was a principal designer in the University360 project at RWD and previously held the Alonzo G. Decker Chair in Information Technology at Goucher College in Baltimore, MD. He holds a Doctor of Science degree in computer science and is the author of five books on advanced computing technologies and knowledge-based systems.
Ask the Author
Have a question or comment? Submit it here.
Write a Review
Want to write a review? Submit it here
What's New!
News from the author, signings, more...
Authored Products