Dealing With Conflict Participant Coursebook, Revised
Price:
| | |
| --- | --- |
| | |
| 1 – 9 | $35.00 |
| 10 – 24 | $33.25 |
| 25 – 49 | $31.50 |
| 50 + | $29.75 |
Dealing With Conflict Participant Coursebook, Revised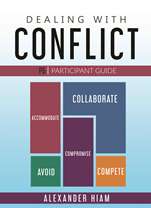 The companion participant workbook to the Dealing with Conflict Leader's Guide and Instrument. This workbook includes all the exercise worksheets needed for participants to seamlessly follow the conflict workshop outlined in the Leader's Guide. The coursebook helps you complete the assessment and includes a series of activities designed to teach and reinforce conflict management skills.
The Participant Coursebook follows the Leaders Guide and includes key summary information, exercises, worksheets and activities needed by participant to master conflict resolution skills.

Module 1 explores the high costs of organization conflict and the importance of adopting a negotiating posture to resolve most business conflict.
Module 2 covers the importance of understanding your dominant conflict style as your default style when under the pressures that conflict often exerts.
Module 3 explains the two motivating forces that often determine an individuals approach to conflict: Concern for the outcome & Concern for the relationship. Participants learn to make situational decisions.
Module 4 covers measuring and improving your conflict IQ and how to improve how you resolve conflict.
Module 5 teaches advanced negotiating skills useful with the collaboration and compete styles of conflict resolution and included best practices for trust building, listening, creative thinking, and anger management.

Click Here to View More Information