EngagedManager Index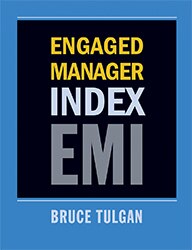 RainmakerThinking's
®
EngagedManager Index(EMI) online assessment gives managers (and their leaders) an easy-to-follow analysis of their strengths and development needs when it comes to the fundamentals of management --- measuring the manager's own performance on the 18 best practices used by the most effective managers, based on 21 years of extensive workplace research by RainmakerThinking, Inc.
®
This assessment begins with a self-assessment by each manager and then enables comparison of that self-assessment with evaluations completed by co-workers that can include any or all of the following: the manager's direct reports, dotted-line reports, supervisor(s), and peers.
It provides a multi-source evaluation of where each manager's current management practices are in comparison to the best practices followed by the most effective managers.
For two decades Bruce Tulgan has combined research and experience to determine the proclivities of different generations in the workforce. Bruce has identified how some managers get results across the generations through a mix of commitment, communication, energy and accountability. The EMI measures the extent to which your organization's managers are deploying 18 fundamental, cross-generational, best practices. When you add them up these 18 practices = total engagement. Engagement gets the job done and creates commitment in all followers.
With this new assessment tool , individual managers can quickly identify crucial strengths and weaknesses, and the executive team can use the CEO report to get a compelling picture of how the whole organization is viewing the proficiency and effectiveness of its managers.
Click on this link for a Q&A with EMI author Bruce Tulgan in HR Magazine pinpointing that Structured One-on-One Communication

is the key to effective management.
Click Here to View More Information