The Parker Team Series - Electronic Files (PTS-ED)
Price:
| | |
| --- | --- |
| | |
| 1 – 9 | $199.95 |
| 10 – 24 | $189.95 |
| 25 – 49 | $179.96 |
| 50 + | $169.96 |
The Parker Team Series - Electronic Files (PTS-ED)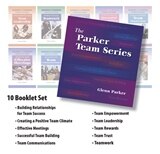 The complete set of ten booklets - immediately available as electronic files. If you're trying to figure out how to get more out of the team you're responsible for managing – and these days, who isn't? –help is on the way.
This series of brief, how-to booklets is full of insights and skills for team leaders and managers who want to improve their overall teambuilding skills. Here you will find the most important aspects of teamwork covered concisely and thoroughly: Meetings, leadership, climate, conflict, rewards and recognition and teambuilding.
Each booklet is to the point but is jam-packed with clear explanations, useful exercises, meaningful vignettes and solid examples of the total team process.
The booklets appeal to both newcomers and veterans. And the knowledge can be applied to any type of team – including on-site teams, new and existing teams and cross-functional teams.
When it comes to team training, Glenn Parker is truly the best in the business. His many hands-on years of building and sustaining teamwork and writing best-selling books on team-work are evident in these pages. Even if you've been involved in teamwork for decades, you'll still find many new and fresh ideas and approaches you can apply immediately.
Here is the complete listing of 10 booklets:
Building Relationships for Team Success

Creating a Positive Team Climate

Effective Meetings

Successful

Team Building

Team Communications

Team Empowerment

Team Leadership

Team Rewards

Team Trust

Teamwork
Click Here to View More Information