The Negotiator in You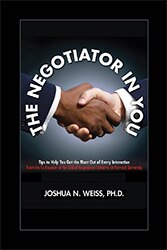 From the Co-Founder of the Global Negotiation Initiative at Harvard University
The Negotiator in You is an introduction to negotiation specifically for people who don't tend to view themselves as negotiators. In this original title, Joshua N. Weiss, Ph.D., gives us the tools to enter into a myriad of negotiations with confidence.
For workplace negotiations, Weiss coaches us how to effectively negotiate externally with our customers and internally with our boss, colleagues, and subordinates. In a down turned economy, Weiss pays special attention to salary negotiations and finding value among many other factors currently facing everyone in organizations.
Beyond the workplace, there are two other critical areas where we negotiate frequently—at home and in life. Turning his eye inward on how we interact at home, Weiss gives us headache-saving tips on how to navigate our way through the holidays and in everyday interactions with our loved ones. And in the negotiations we find ourselves in with the world around us—whether buying a car or house or negotiating with credit card companies—is essential reading so you don't get taken advantage of. With personalized worksheets for each section you can turn to time and again, the Negotiator in You is the primer you need for smooth sailing at work, home and in life in general.
About the Author
Dr. Joshua N. Weiss received his Ph.D. from the Institute for Conflict Analysis and Resolution at George Mason University in 2002. Weiss has published extensively on negotiation and is an internationally recognized speaker and trainer on negotiation at the organizational, corporate, government, and international levels.
Click Here to View More Information