The Competency Toolkit 2nd Edition - Electronic Delivery
Price:
| | |
| --- | --- |
| | |
| 1 – 9 | $395.00 |
| 10 – 24 | $375.25 |
| 25 – 49 | $355.50 |
| 50 + | $335.75 |
The Competency Toolkit 2nd Edition - Electronic Delivery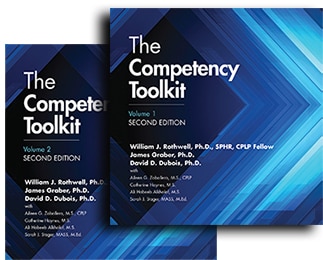 This user-friendly package contains the most innovative methods, procedures, suggestions, and materials available to help you identify competencies and create models, individual competency assessments, and individual development planning.
Developed by two experts with 50+ years of combined experience, this kit is packed with step-by-step tips and guidelines to simplify and speed up the competency-creation process. Everything you need to know to succeed is here—how to win management support, conduct briefing presentations, do's and don'ts, best practices, and so much more.
Key Highlights
Gaining organization support for competency identification
White paper for management stating basic principles and concepts, and an Action Planning Form to help you structure group thinking about the issues
Creating competency models step-by-step
Introduction to competency identification and modeling techniques, steps for researching competencies and developing a model, planning and managing checklist, worksheets, activities, product samples, and other hands-on tools
Using a competency-based multi-rater assessment system
A discussion of the basics of competency-based multi-rater assessments and a management-briefing package to inform leaders on the principles, practices, and opportunities of using competency assessment
Helping individuals build their competencies: individual and managerial contract development
Detailed explanation of key issues and concepts to help you align competency assessment results with individual development initiatives, an executive-briefing package and an employee-briefing package on individual development planning, both with overhead masters, handouts, and other materials.
Click Here to View More Information