PS Leader Facilitator Guide - Electronic Version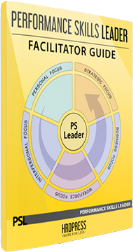 The PS Leader assessment process looks beneath the surface at key behavioral skills that make the difference in 24 central leadership competencies. The leader is assessed within each organizations unique culture. Feedback from bosses, co-workers and direct reports identify the most important strengths and needs, pivotal to leader performance and a successful career progression.
PS Leader's 24 Competencies enable organizations to:
Help effective leaders recognize their greatest strengths and build confidence momentum.
Enable managers to see how they lead with a clarity only possible with 360-degree feedback.
Produce job specific individual development plans.
Set easy to understand performance benchmarks.
The newly Revised Facilitator's Guide includes a detailed coaching session outline that walks Facilitators through a sample leaders results to demonstrate the specific results a coach should draw attention to.
Click Here to View More Information