50 Activities for Building Innovation - Print Version
Price:
| | |
| --- | --- |
| | |
| 1 – 9 | $175.00 |
| 10 – 24 | $166.25 |
| 25 – 49 | $157.50 |
| 50 + | $148.75 |
50 Activities for Building Innovation - Print Version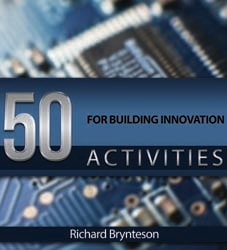 These 50 exercises are the perfect way to get employees excited about the concept of innovation, develop their innovation skills, build an ongoing capacity for innovation and introduce an easy-to-use innovation process. Participants will learn how to do visioning, seek innovations in a certain industry, feel comfortable challenging the norm, generate a large number of new ideas in a short amount of time – and that's just the beginning. As they work through the exercises, they'll have fun, learn to think better and be motivated to apply what they learned back on the job.
If you're like many leaders today, innovation has become a top priority. The question is: How can you build a culture in your organization that thinks in new ways and creates new products and processes over and over again? With 50 Activities for Building Innovation, you have a proven blueprint for creating centers of innovation throughout your organization that do just that.
The 50 fully reproducible exercises are organized into four chapters:
The Practice of Innovation

: Give participants a shot in the arm and elevate their sense of innovation.

The Innovative Personality and Skill Sets

: Build individual, group and organizational skills.

The Culture of Innovation

: Create a culture that produces ongoing innovations.

The Innovative Process

: Encourage innovation using a proven, five-step process.
Also included are questions to ask during each stage of the innovation process, inspirational quotes and sayings you can post and examples of innovation initiatives from the author's own experience.
You can use these flexible exercises in any order and adapt them to any time frame. With this powerful resource, it's easy to shake up your next organization-wide innovation training, lunch-and-learn session, problem-solving meeting or team building event – and start building innovation into the DNA of your organization.

Below is a list of the purpose of each activity by part:
PART 1

First Steps to Innovation

Productively Using What if?

Creating Connections

Levels of Innovation

Think Outside the Box

Market Opportunities

Nourishing Creativity

Storytelling

Tolerating Failure

Visioning

Green Innovation

Practical Creative Skills
PART 2
Building Inquisitiveness

Building Networks

Challenging Assumptions

Changing Thinking Roles

Changing Roles

Changing Roles (Forced Associations)

Test the Customer Experience

Plan Innovation

Creative Problem Solving

Generating More Ideas
PART 3
Open Source Innovation

Kill the Idea Killers

Sources of Innovation

Real Learning from Failure

Faces of Innovation

A System of Innovation

Indentify Trend, Then Innovate

Creative Collaboration

Build an Innovative Culture I

Build an Innovative Culture II

Personnel Innvoation Readiness
PART 4
Learn Acute Observation

Deep Inquiry

Marketing Innovation

Re-engineering Processes

Formulate Deep Questions

Deep Empathy

Using Visuals to Innovate

Purposeful Brainstorming

Practice Innovation

Institute a Critique Process

Implement Innovation

Analyze an Innovation

Organized Brainstorming

Identifying New Market Space

Innovating Services

Methodical Innovation

SCAMPER Brainstorming
Click Here to View More Information