Job Aids Series Collection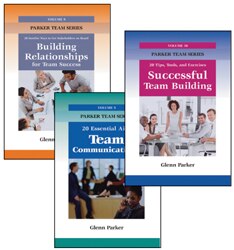 A Great Resource

You get unlimited access to 30 Job Aids that will improve performance for any individual or organization.
SkillBbuilder Booklets are 12-page training snapshots that present each competency in logical steps. Skillbuilders provide the individual with self-paced learning and easy transition to on-the-job practice.

Unlimited access to 35 Skillbuilder booklets covering most every competency!

Use Skillbuilders to improve your employees' performance.
Simple but complete.
HRD's 12-page Skillbuilder Booklets are step-by step guides that express points with a high level of clarity and focus. Filled filled with high-impact information, the 35 different titles can be used as stand-alone takeaways or as a gap filling piece when a specific training need has been discovered. The skills learned by an individual can be actualized through the use of a unique application template included with each Skillbuilder.
Skillbuilders provide a perfect flow from assessment to development.
Save time...Save money...
With high demand for quick hit training, Skillbuilder Booklets provide specific training for learners on the go. Trainers love them for their portability and you can print them whenever you need them, in unlimited quantity. Improve employees' performance in 35 important competencies all included with this great collection from HRD Press.
Series Titles
Diversity and Cultural Awareness One Page Coach
Effective Communication One Page Coach
Effective Assertiveness Skills One Page Coach
Creativity and Innovation One Page Coach
Effective Coaching Skills One Page Coach
Conflict Resolution Skills One Page Coach
Effective Goal-Setting One Page Coach
Emotional Intelligence One Page Coach
Effective Listening Skills One Page Coach
Effective Leadership One Page Coach
Effective Networking and Relationship-Building One Page Coach
Improving Customer Service One Page Coach
Influencing Others One Page Coach
Learning Styles One Page Coach
Managing Change Effectively One Page Coach
Negotiating Skills One Page Coach
Problem Solving Skills One Page Coach
Stress Management One Page Coach
Team Building One Page Coach
Effective Time Management One Page Coach
This collection will be a great resource for your entire organization.
Click Here to View More Information